Want to hear more from the actors and creators of your favorite shows and films? Subscribe to The Cinema Spot on YouTube for all of our upcoming interviews!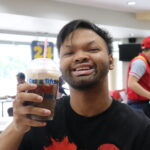 A film and television critic with a Bachelor's of Arts in English Literature with a Writing Minor from the University of Guam. Currently in graduate school completing a Master's in English Literature.
One of the best episodes of HBO Max's Raised by Wolves so far! The second season's fifth episode is titled, "King". It is written by series creator/ executive producer, Aaron Guzikowski. Alex Gabassi takes over the director's chair.
In this review, I will be discussing Raised by Wolves Season 2 Episode 5. There will be no spoilers here, as the title of this article suggests. Nonetheless, please read ahead at your own discretion to avoid any possible revelations.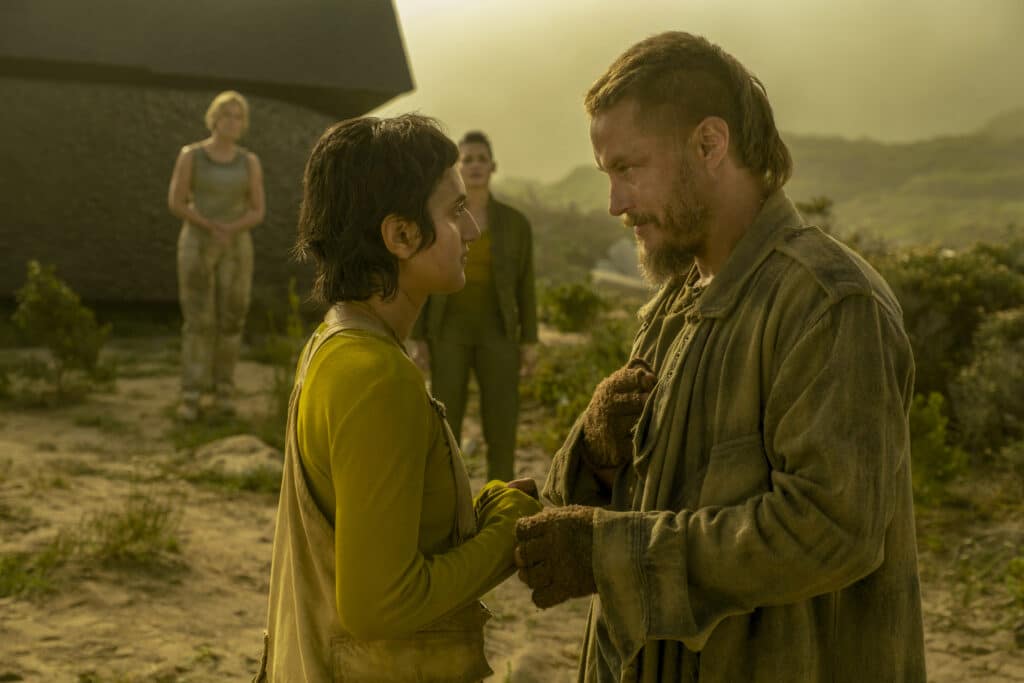 Plot Synopsis
According to WarnerMedia, here is the synopsis for Raised by Wolves Season 2 Episode 5.
Mother struggles to keep the collective from falling apart as she struggles to lead while Sue resorts to prayer in her desperation to cure Paul. Meanwhile, Marcus and his followers are given new hope as they discover an ancient temple. But as Marcus investigates the temple's secrets, Decima and the rest of his followers are made to answer for their sins.

WarnerMedia
Discussion
Following last week's episode of Raised by Wolves, the second season storyline gets more intriguing. There is not a scene in this week's episode that falls behind. The narrative that the writers' room presents us with takes a Gothic form. The reanimated ancient human body in Father's (Salim) laboratory appears — and sounds — uncanny. As teased as the end of "Control", it has the looks to be miraculous, however upon closer inspection, there is an ominous aura about itself of which I do not feel too well. Additionally, we get a couple of glimpses of ghostlike and monstrous figures, another major theme found in Gothicism.
With the rise of control, we have to ask who it is at the reins. If we see Mother/ Lamia (Collin) and Sue (Algar) as queens, then it is safe to assume that Father or Marcus Drusus (Fimmel) is the king of the story. This episode, therefore, would serve as the starting point of their fight for that power. Although, "Good Creatures" made sure to be that for us. There is undoubtedly something Machiavellian about such a fight for power over principality that is deserving of analysis, but that would be articulated in an entirely different article.
The visual effects, sound, music, editing, and cinematography all lend an extravagant deal to the episode. If it can get enough attention and support, I think it should at least be considered for an Emmy nomination. One of several scenes that I want to highlight is laudable. Allow me to explain.
Humans Themselves Are Machines
In one strong scene around the halfway point of the episode, we see Mother interrogating one of the Trust's people. I want to bring this up not only due to the intensity that it gives rise to but also a particular line that she says in the dialogue exchange.
It's easy to become confused when you've become reprogrammed. [Y]ou see, humans can be reprogrammed just as easily if not more so. Simple redirection, conditioning, repetition. The Trust used you like a parasite uses its host. It's very likely that the person you used to be was not even up to the task of protecting it. Of course, you might never know who you were, as all programs are often overwritten.

Mother/Lamia (Amanda Colin) in 'Raised by Wolves' Season 2 Episode 5 — "King"
The protagonist accuses the captive individual of being an android, but in a way she isn't wrong. In his Machine essay titled, "For a Neganthropology of Automatic Society", the late Bernard Stiegler writes that human beings have stupefied and lowered themselves to the level of automatons. He argues that we are governed by drives via automatic repetition. This leads us to be rendered transindividuals who have lost meaning.
We are in a new era of civilization where we are more than just human, that is, we become other, or inhuman. At this point, through proletarianization, our retentions — tertiary (knowledge), secondary (psychology), and primary (memory) — are tampered with. Such a proletarianization of society's citizens affects our subsistence, existence, and consistence, thus turning us into a network/ an automated herd/ an artificial crowd.
The Crew of Raised by Wolves Season 2 Episode 5
Marjorie Chodorov joins the series as the episode's co-producer.
Caitlin Saunders is the series' story editor, while Mark Patten returns as the episode's director of photography.
Billy Rich serves as the editor and is assisted by Bart Brevé (Doctor Strange). Marc Streitenfeld composes the show's music, while Matt Friedman and James Bladon act as the music editors.
Raymond McIntyre Jr. serves as the series' visual effects supervisor. He is joined by VFX producer Ruth Irvine-Hauer and additional VFX supervisor Victor Dimichina. Rachel Chang serves as the VFX editor and is assisted by Uriah Gibson.
Tom Hannam serves as the production designer, while Kate Carin and Jamey Scott design the show's costumes and sound, respectively. Birrie Le Roux returns as the episode's set decorator. Christa Schoeman designs the hair & make-up, while Jaco Snyman designs the digital art.
Chris Bass serves as the supervising art director. The art directors of the episode consist of Catherine Gaum, Alan Munro, Ella Rushforth, and Jonathan Hely-Hutchinson.
Kate Rhodes James serves as the series casting director, with Gordon Cowell as the casting associate and Gabriella Wolf as the casting assistant.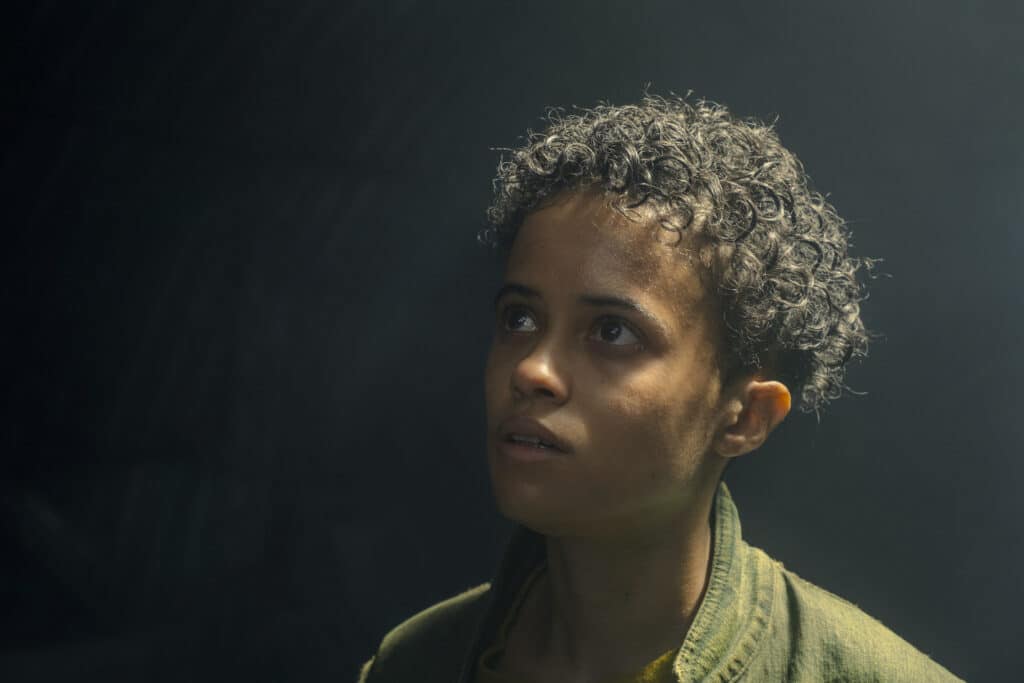 The Cast of Raised by Wolves Season 2 Episode 5
Amanda Collin portrays Mother/ Lamia. Abubakar Salim plays Father, while Winta McGrath plays Campion. Jordan Loughran, Felix Jamieson, Ethan Hazzard, Aasiya Shah, and Ivy Wong play the respective adopted Ark children: Tempest, Paul, Hunter, Holly, and Vita.
Niamh Algar portrays Sue, while Travis Fimmel plays Marcus Drusus. Peter Christoffersen portrays Cleaver, while Matias Varela returns in the role of Lucius. Kim Engelbrecht and Morgan Santo play Decima and Vrille, respectively.
James Harkness portrays Tamerlane, while Jennifer Saayeng appears as Nerva. Susan Danford, Loulou Taylor, Litha Bam, Shoko Yoshimura, and Jenna Upton return as their respective characters, Justina, Cassia, Bartok, Mastema, and Danjal.
Selina Jones portrays Grandmother. Michael Pennington voices The Trust, while Joseph May voices a holo-sphere.
Performances and Character Developments
Collin and Algar's dynamic as Mother/ Lamia and Sue continues to amaze me. Their mutual goals as matriarchal figures are the glue that binds them together. While in the Season 1 finale, they do not get along at all, they have become closer in this little machine they call a family. Even separated into their own little subplots, they perform so well.
Similarly, I enjoy the dynamic established between Father and Lucius (Varela). This bond was teased in Episode 202 — "Seven", but now we get to see an extrapolation of this interaction between the two characters. I hope this lasts at least to the end of the season, although I would like to see where this goes as the overall series progresses.
Lastly, we have Shah's Holly, who was more of a backgrounded protagonist in the first season. The character shows deep loyalty to Sol, so it is not surprising that she falls prey to Marcus's rule. (Their subplot with the temple is horrific and only adds to the Gothic-ness of the episode).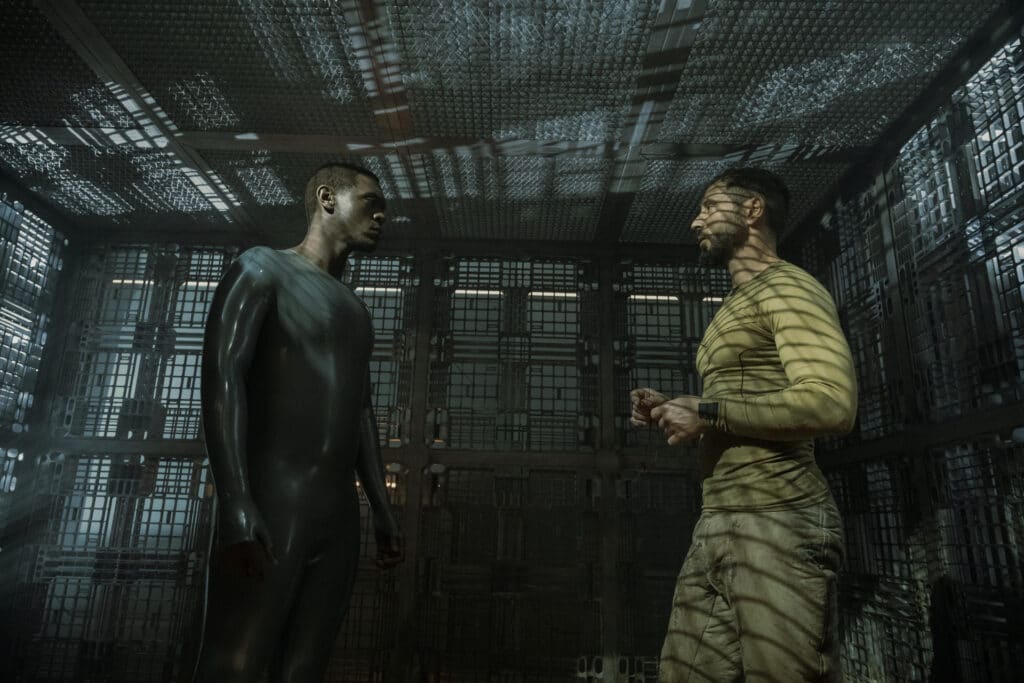 Final Thoughts
"King" ventures into a study of some power struggles amongst the adult characters. Kepler-22b's societies are kinetic until it comes to a point where they crash and all fall apart. In my opinion, this is not just the best episode of the season but of the show so far. Eventually, we will all have to see what is behind that veil…
Raised by Wolves Season 2 is now available to stream via HBO Max!
Have you seen the new season of Guzikowski's series? If so, then what are your thoughts on it so far? Let us know! For more drama and science-fiction-related news and reviews visit and follow The Cinema Spot on Facebook, Twitter, and Instagram!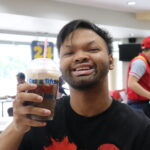 A film and television critic with a Bachelor's of Arts in English Literature with a Writing Minor from the University of Guam. Currently in graduate school completing a Master's in English Literature.