Want to hear more from the actors and creators of your favorite shows and films? Subscribe to The Cinema Spot on YouTube for all of our upcoming interviews!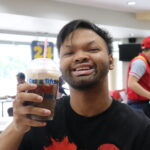 A film and television critic with a Bachelor's of Arts in English Literature with a Writing Minor from the University of Guam. Currently in graduate school completing a Master's in English Literature.
With HBO Max's Raised by Wolves, it is a battle of the man-made machines versus the machines made by man. The second season's fourth episode is titled, "Control". It is written by series executive producer Karen Campbell, while Sunu Gonera returns to the director's chair.
In this review, I will be discussing Raised by Wolves Season 2 Episode 4. There will be no spoilers here, as the title of this article suggests. Nonetheless, please read ahead at your own discretion to avoid any possible revelations.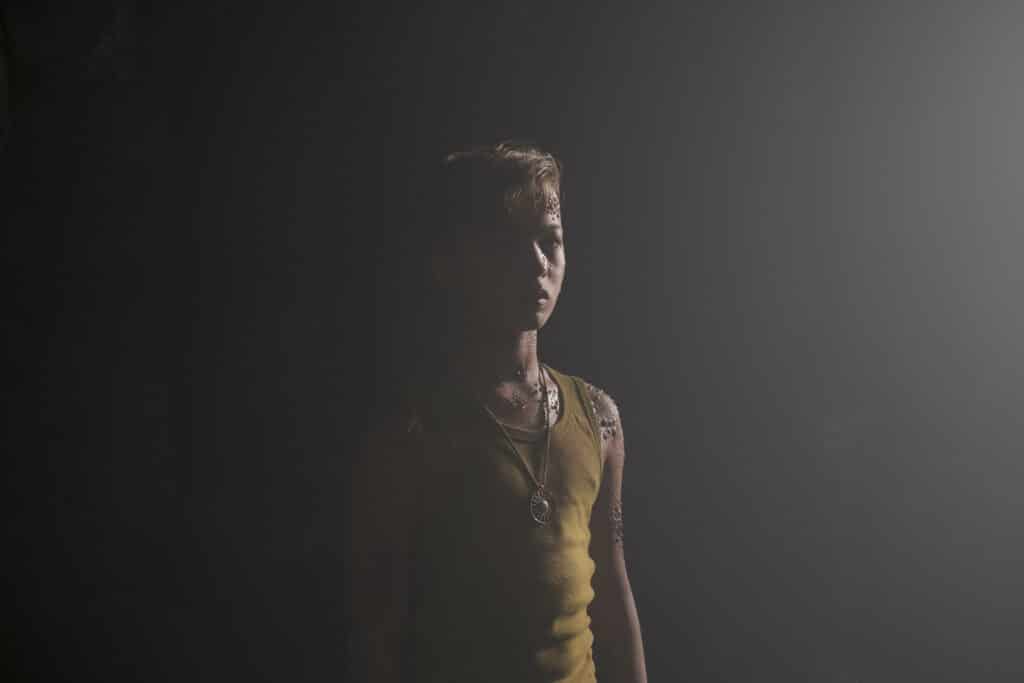 Plot Synopsis
According to WarnerMedia, here is the synopsis for Raised by Wolves Season 2 Episode 4.
After the Trust uses Paul to strike back against Marcus, Mother confronts the Trust and threatens a coup. Meanwhile, on the run from Mother, Marcus has to keep his followers from losing faith as his powers suddenly disappear.

WarnerMedia
Discussion
Following last week's episode of Raised by Wolves Season 2, "Control" brings a moderate pace to its narrative. The editing team that consists of Philipson and Macfarlane makes the story stride with a lovely gait all the way to the end. Not only that, but the art direction is so beautiful that I wish I could figure out if storyboarding was done on the episode. What we have here is the definition of science-fiction and drama combined.
This week's episode is about the system (or systems) of control at work in Kepler-22b's tropical zone. On the one hand, we have the Mithraic peoples led by Marcus (Travis Fimmel), while on the other hand, there is the Trust's (voiced by Michael Pennington) collective. They represent the institutions of religion versus the institutions of government or science. Maurizio Lazzarato theorizes on such a means of control in Signs and Machines: Capitalism and the Production of Subjectivity. He explains that we, humans, are ourselves machines of the larger machinic assemblages. In terms of the Trust's followers: the collective. Mother (Amanda Collin) challenges this when Sue (Niamh Algar) mentions she was called "part-robot".
Lazzarato states, "It is never an individual who thinks, … who cares. An individual who thinks and creates does so within a network of institutions …, technologies [and is] immersed in traditions of thoughts and esthetic practices" (44). It is interesting to see the writers utilize Sol and the Trust as entities of control. The only difference is that the latter appears to be more of an obvious capitalist machine. I hope Raised by Wolves continues to apply this concept for the remainder of the season. Simply put, the mode of logos is present.
The Crew of This Week's Raised by Wolves
Caitlin Saunders is the series' story editor, while Kolja Brandt is the episode's director of photography.
Stephen Philipson returns as the editor and is assisted by Jennifer Macfarlane. Marc Streitenfeld composes the show's music, while Matt Friedman and James Bladon act as the music editors.
Tom Hannam serves as the production designer, while Kate Carin and Jamey Scott design the show's costumes and sound, respectively. Birrie Le Roux returns as the episode's set decorator. Christa Schoeman designs the hair & make-up, while Jaco Snyman designs the digital art.
David Ingram serves as the supervising art director. The art directors of the episode consist of Catherine Gaum, Alan Munro, Ella Rushforth, and Jonathan Hely-Hutchinson.
Kate Rhodes James serves as the series casting director, with Gordon Cowell as the casting associate and Gabriella Wolf as the casting assistant.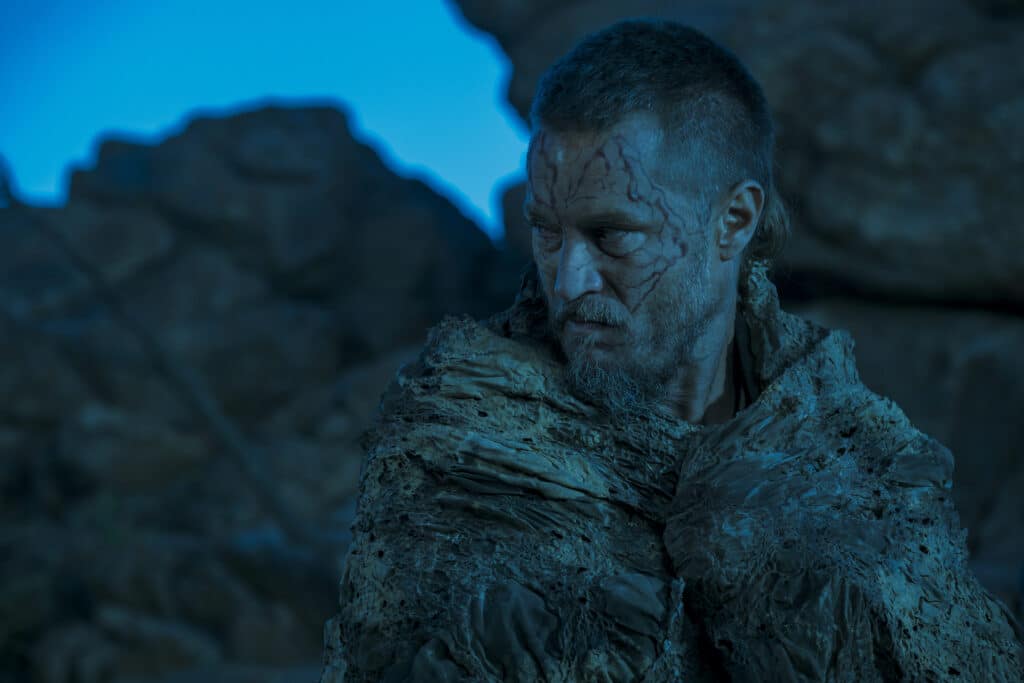 The Cast of Raised by Wolves Season 2 Episode 4
Amanda Collin portrays Mother/ Lamia. Abubakar Salim plays Father, while Winta McGrath plays Campion. Jordan Loughran, Felix Jamieson, Ethan Hazzard, Aasiya Shah, and Ivy Wong play the respective adopted Ark children: Tempest, Paul, Hunter, Holly, and Vita.
Niamh Algar portrays Sue, while Travis Fimmel plays Marcus Drusus. Peter Christoffersen portrays Cleaver, while Kim Engelbrecht and Morgan Santo play Decima and Vrille, respectively.
James Harkness portrays Tamerlane, while Jennifer Saayeng appears as Nerva. Susan Danford, Loulou Taylor, Litha Bam, Garth Breytenbach, Shoko Yoshimura, Daniel Lasker, and Jenna Upton return as their respective characters, Justina, Cassia, Bartok, Den, Mastema, Furfur, and Danjal.
Michael Pennington voices The Trust, while Joseph May voices a holo-sphere.
Tshiamo Moreltwe joins Mikkie Dene Le Roux as colonists. Toni Jean Erasmus plays "Special Forces 1", while Motsi Tekateka plays a tank soldier.
Performances and Character Developments
Collin and Salim continue to fare well as their android parental figures, Mother and Father. Their development as characters grows for the better, with the former gaining advantages over her current circumstance and the latter attempting to reanimate the ancient human body using the fuel blood.
Mother decides to resort to controlling her serpent child via microchip. I am curious as to how this would play out. Lazzarato writes about the microchip as "direct intervention", so I hope the writers will explore how much control the android will have over it. Mother also further challenges herself as a machine when she uses her rhetoric to attempt to convince others that she is innocuous.
In comparison, Fimmel and Engelbrecht prove ruthless as Marcus and Decima. Neither hold back in their performances, only to display themselves as menacing. I think their belief in Sol factors in as a major influence on their actions and may prove so when they have pretexts for doing what they have done. Admittedly, I will say I got goosebumps with Engelbrecht's Decima, giving us a side to the character we have not seen before.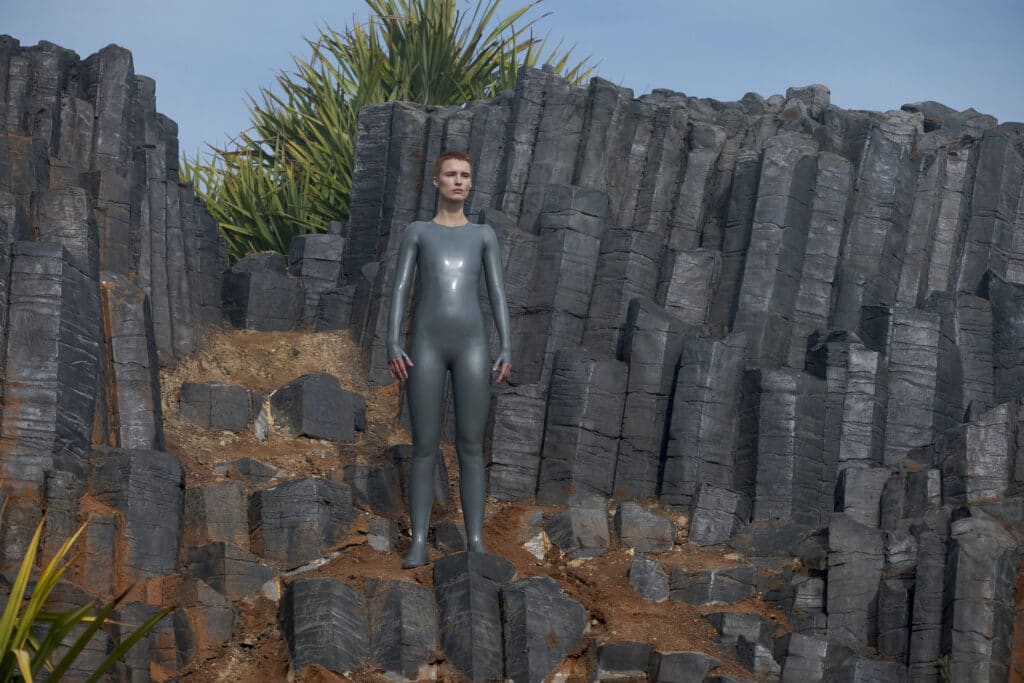 Final Thoughts
"Control" further proves that Gonera is a worthy director for Raised by Wolves. At nearly forty-four minutes, the episode does not fall into the basic three-act plot structure. With its good pacing and its runtime, the narrative does not feel as if it is dragging on. In fact, I may prefer it a little more to the previous episode.
In terms of critiquing systems of control, the writers' room do so well. It's clean and doesn't get so in your face about it. Overall, I find it to be one of the finer episodes of the series thus far. If the improvement begins here, then I can't imagine how the rest of the season will turn out.
Raised by Wolves Season 2 is now available to stream via HBO Max!
Have you seen the new season of Guzikowski's series? If so, then what are your thoughts on it so far? Let us know! For more drama and science-fiction-related news and reviews visit and follow The Cinema Spot on Facebook, Twitter, and Instagram!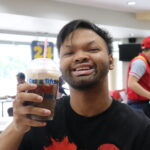 A film and television critic with a Bachelor's of Arts in English Literature with a Writing Minor from the University of Guam. Currently in graduate school completing a Master's in English Literature.