Want to hear more from the actors and creators of your favorite shows and films? Subscribe to The Cinema Spot on YouTube for all of our upcoming interviews!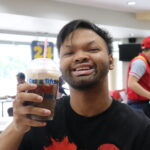 A film and television critic with a Bachelor's of Arts in English Literature with a Writing Minor from the University of Guam. Currently in graduate school completing a Master's in English Literature.
Aaron Guzikowski's science-fiction drama series, Raised by Wolves, shows fans the dangers of the tropical zone. The second season's second episode is titled, "Seven". It is written by series co-executive producer Jon Worley (Justified, Terriers, Iron Fist). Ernest Dickerson returns to the director's chair.
In this review, I will be discussing Raised by Wolves Season 2 Episode 2. There will be no spoilers here, as the title of this article suggests. Nonetheless, please read ahead at your own discretion to avoid any possible revelations.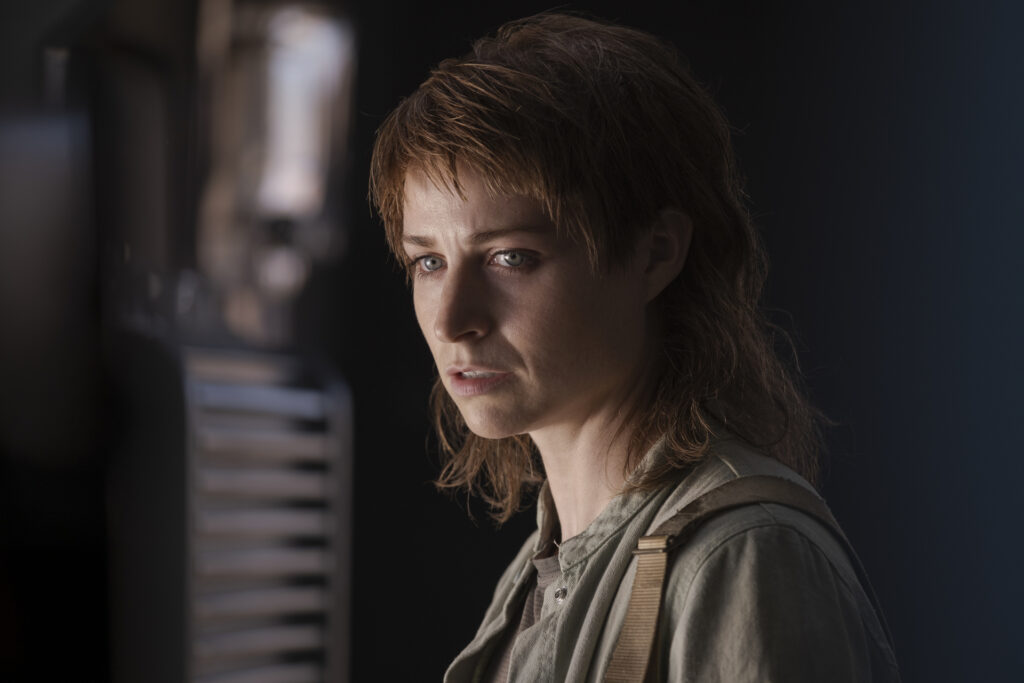 Plot Synopsis
According to WarnerMedia, here is the synopsis for Raised by Wolves Season 2 Episode 2.
After Campion is hurt during his first encounter with the serpent, Mother must reconcile her feelings for her natural child as the collective is ordered by the Trust to hunt it down. Marcus comes to believe the serpent will help him find the Tree of Knowledge and sets off to find it before the atheists do.

WarnerMedia
The Cast of the Raised by Wolves Season 2 Episode 2
As always, Amanda Collin portrays Mother/ Lamia. Abubakar Salim plays Father, while Winta McGrath plays Campion, their sole surviving son of six children. Jordan Loughran, Felix Jamieson, Ethan Hazzard, Aasiya Shah, and Ivy Wong play Mother and Father's respective adopted Ark children: Tempest, Paul, Hunter, Holly, and Vita.
Niamh Algar portrays Sue, an atheist soldier/ medic, while Travis Fimmel plays Marcus Drusus, leader of the Mithraic cult and Sue's former partner. Peter Christoffersen portrays Cleaver, a member of the atheists, while Matias Varela returns as Lucius, a former follower of Marcus's.
Kim Engelbrecht plays Decima, a Mithraic engineer, while Morgan Santo plays Vrille, her custom model android. James Harkness plays Tamerlane, while Jennifer Saayeng appears as Nerva.
Susan Danford, Loulou Taylor, Litha Bam, Garth Breytenbach, Shoko Yoshimura, Daniel Lasker, and Jenna Upton play Justina, Cassia, Bartok, Den, Mastema, Furfur, and Danjal, respectively.
Michael Pennington voices The Trust, while Bong Mbutuma appears as Santos, a soldier of the atheist community. Shaun Chad Smit and Claire-Louise Worby play colonists. Nathan Castle appears as an atheist soldier, while Adam Neill plays an atheist tech with a job marble.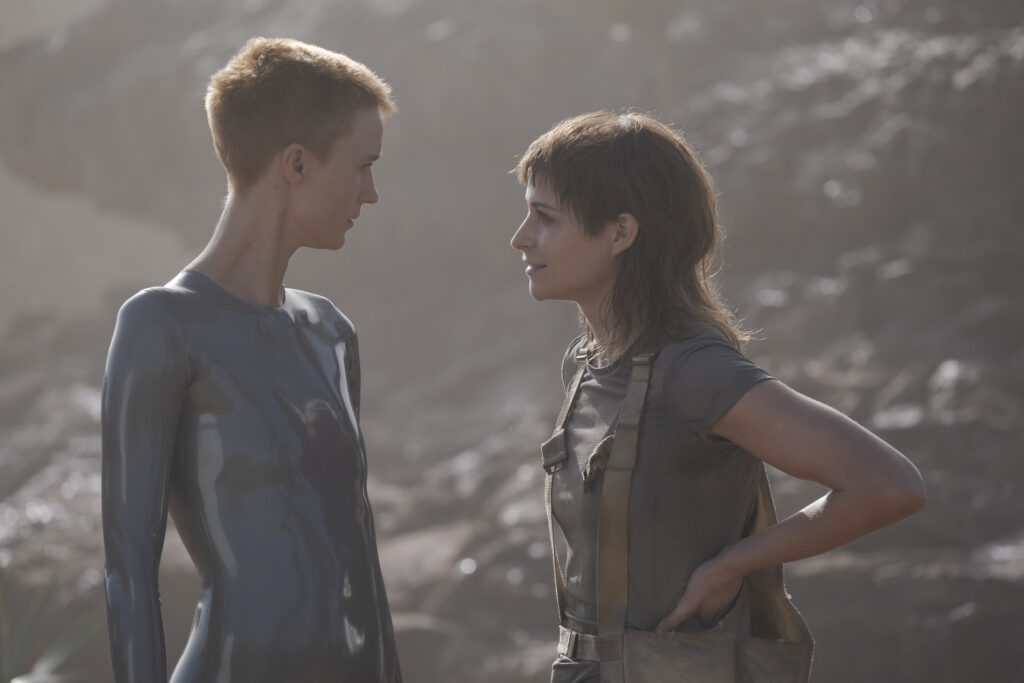 Discussion
The second episode of Raised by Wolves Season 2 heads into more dangerous territory. While the Season 1 finale teased the existence of Mother's (Collin) serpent child aka "Seven", Season 2 begins to show us what the creature is capable of. Some may be surprised, as we won't learn the true nature of its being until the third episode of the season. For those who have read my reviews on Raised by Wolves Season 1, I often wrote about how the writers make Biblical allusions in the show.
The representation of Mother and the serpent parallels Eve and the serpent in the Book of Genesis. The female figure and the supposedly sinister snake entity form this bond that is unlike any dynamic between man and woman, or man and snake. Something ominous and twisted is being foreshadowed here (but how can we know for sure)?
There are many tense moments throughout the episode, and it all starts with the harshness committed against the family, along with the consequence that comes as a result of the culprit's action. Kate Carin's costume design, Christa Schoeman's hair design, and Raymond McIntyre Jr.'s visual effects supervision are the major components for the moments that we are given. I believe it is fair to say that this episode's imagery knows how to be appealing.
Performances and Character Developments
Jamieson's Paul performs well at some parts of the episode. His bitterness towards his adoptive mothers in the past can be attributed to having been deceived by his feminine figures. Perhaps, this is why he presents no issues with Father and does not vocalize his wanting to harm Marcus. There is something about the character that he is hiding, and that is a mystery of which we need to take note.
Aside from being parents, Mother and Father (Salim) discover their purpose in the tropical zone. Mother can still appear as threatening to those who put her family's lives at stake. Although, she is less of a Necromancer than she was in the previous season. Meanwhile, Father is more of a role model than his female android partner. We see him continuing to be close with his children while also trying to fit in with the community. This goes as far as taking the leader position to save the collective.
I also like the developing dynamic between Mother and Sue (Algar). In the Season 1 finale, we see that they do not necessarily get along with one another well. With the first two episodes of Season 2, their relationship has grown. Moreover, their common goal as mothers is wanting the best for the children they have chosen to watch over. However, this poses an issue to Sue, whose relationship with Paul is severed over his discovery of her false pretenses. As for Mother's relationship with the serpent child, it seems that she still possesses some love for it. We can see this from the way she is shown on-screen with it.
Additionally, Campion also possesses some hint of love for his "natural brother". Although, we will discuss this with a later episode.
Final Thoughts
This second episode of Raised by Wolves Season 2 kicks things up a notch. Worley and the rest of the writers' room bring a good balance of action and drama. With this comes tension, and some characters are close to encountering those from the enemy party. This is teased when a couple of the tropical zone newcomers meet a Mithraic figure they aren't supposed to.
Overall, "Seven" makes a huge improvement from the second season premiere. There is much love to have here. However, the multiple moments of violence that take place throughout the episode's narrative emanate from a place of hate. Without a doubt, we will expect to see a reunion of forbidden families — or should we say, foes — in the following episodes.
Raised by Wolves Season 2 premieres on February 3rd on HBO Max!
Have you seen Season 1 of Guzikowski's series? Do you plan to see its second season? Let us know! For more drama and science-fiction-related news and reviews visit and follow The Cinema Spot on Facebook, Twitter, and Instagram!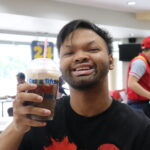 A film and television critic with a Bachelor's of Arts in English Literature with a Writing Minor from the University of Guam. Currently in graduate school completing a Master's in English Literature.