Want to hear more from the actors and creators of your favorite shows and films? Subscribe to The Cinema Spot on YouTube for all of our upcoming interviews!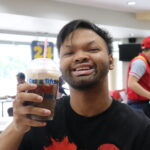 A film and television critic with a Bachelor's of Arts in English Literature with a Writing Minor from the University of Guam. Currently in graduate school completing a Master's in English Literature.
HBO Max's hit science-fiction drama series, Raised by Wolves, continues to veer towards a tragic note. The second season's sixth episode is titled, "The Tree". It is written by Aaron Guzikowski, while Alex Gabassi returns to the director's chair.
In this review, I will be discussing Raised by Wolves Season 2 Episode 6. There will be no spoilers here, as the title of this article suggests. Nonetheless, please read ahead at your own discretion to avoid any possible revelations.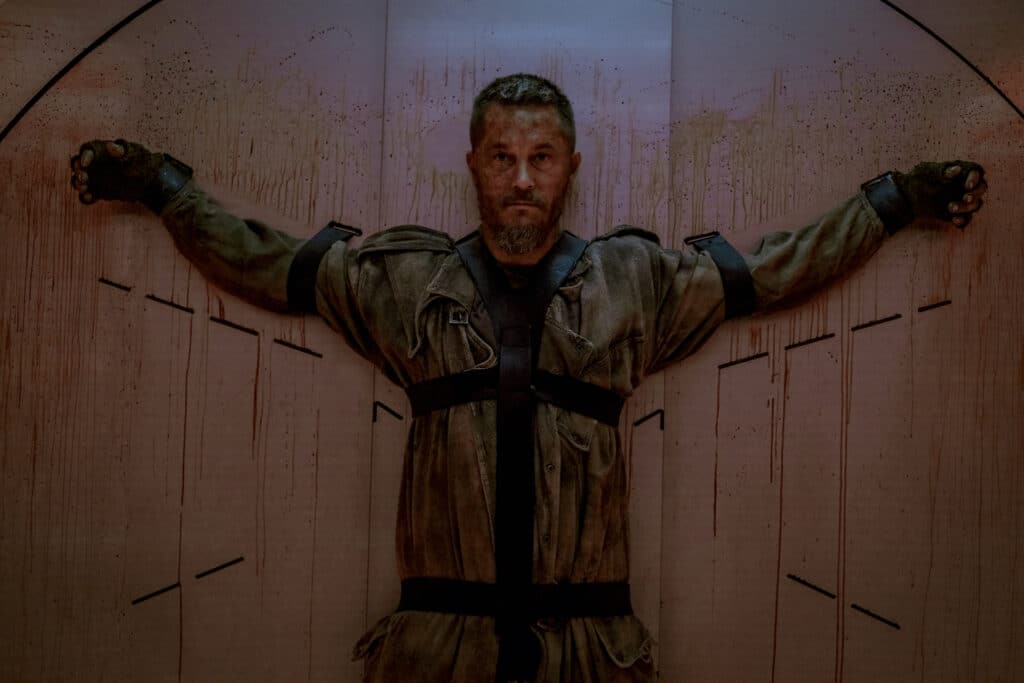 Plot Synopsis
According to WarnerMedia, here is the synopsis for Raised by Wolves Season 2 Episode 6.
As they try and fail to open the seed box, Sue and Paul realize they need Marcus's help. Sue makes a plan to break Marcus out of the brig while Mother is distracted with the imminent birth of Tempest's baby. But when Sue, Paul and Marcus finally open the seed box, they make a horrifying discovery.

WarnerMedia
Discussion
Following last week's episode, "King", "The Tree" branches off — pun intended — into a path that begins to wrap up the second season. While it starts at a slow pace, the speed of the narrative gradually picks up as some characters become psychologically self-dispossessed. The way the episode's events are put together is excellent. Although, less is at stake compared to the previous episode, where multiple lives were put at risk with a killer android child in close proximity. We don't get much of this until there arrives a point where we truly discover why this episode is titled "The Tree"; by then, it is already too late.
A part of the writing relies on rhetoric: Mother (Amanda Collin) continues to convince Campion (Winta McGrath) he can be a leader; Paul (Felix Jamieson) wants his adoptive brother to convince Mother that Marcus Drusus (Travis Fimmel) could be of use in Campion's becoming a leader; and Mother convinces Tempest (Jordan Loughran) that she will love her own baby. Unfortunately, one of these takes a wild turn when someone fails to heed Mother's words.
Consciousness and Subjectivity
Interestingly enough, Mother makes a few comments about humanity. She has Campion acquaint himself with the members of the collective and tells him: "You need to give people some free time to think and live without the burden of a task that must be completed. … Humans only flourish when they're allowed to be human beings". After the fall of the Trust as the controlling capitalist machine, you might wonder how the villagers are to function. Chaos followed, and now they are now subjectivated individuals. They are no longer cogs of the large mega-machine that is the Trust and they also ceased to have roles of their own.
Eventually, Mother tells one of her children that "[s]ometimes … under extreme pressure, human beings grow to meet their demands, and sometimes they regress in order to escape them". What renders us human is the fact that we each possess a consciousness and therefore have the ability to make our decisions as we see fit. With the Trust cut off, it now seems as if the family is surrounded by cynics. I don't blame the villagers; I mean, what other option do you have when your source of purpose is gone?
Soon, Mother tells Father that his notion of them having become "too human" is right all along. They are subjectivated too when their sole purpose on the planet is to serve as androids, as automatons, as machines who are help keep the wheels turning. Marcus pokes some fun at this when he says Mother does not possess faith "to be worthy of Sol's love".
I enjoy where this storyline is headed, and I hope the members of the collective find their own paths instead of it being made for them. The same could be said for Mother and Father.
The Crew of Raised by Wolves Season 2 Episode 6
Caitlin Saunders is the series' story editor, while Mark Patten serves as the episode's director of photography.
Billy Rich serves as the editor and is assisted by Bart Brevé (Doctor Strange). Marc Streitenfeld composes the show's music, while Matt Friedman and James Bladon act as the music editors.
Raymond McIntyre Jr. serves as the series' visual effects supervisor; while Ruth Irvine-Hauer and Victor Dimichina are credited as VFX producers. Rachel Chang serves as the VFX editor and is assisted by Uriah Gibson.
Tom Hannam serves as the production designer, while Kate Carin and Jamey Scott design the show's costumes and sound, respectively. Birrie Le Roux returns as the episode's set decorator. Christa Schoeman designs the hair & make-up, while Jaco Snyman designs the digital art.
Chris Bass serves as the supervising art director. The art directors of the episode consist of Catherine Gaum, Alan Munro, Ella Rushforth, and Jonathan Hely-Hutchinson.
Kate Rhodes James serves as the series casting director, with Gordon Cowell as the casting associate and Gabriella Wolf as the casting assistant.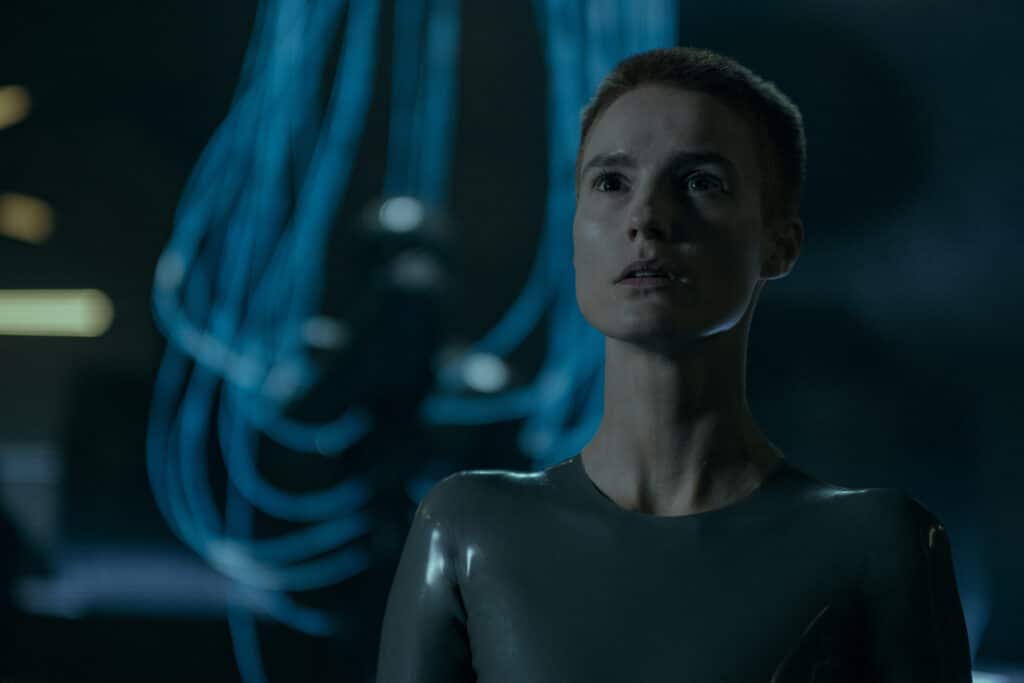 The Cast
Amanda Collin portrays Mother/ Lamia. Abubakar Salim plays Father, while Winta McGrath plays Campion. Jordan Loughran, Felix Jamieson, Ethan Hazzard, Aasiya Shah, and Ivy Wong play the respective adopted Ark children: Tempest, Paul, Hunter, Holly, and Vita.
Niamh Algar portrays Sue, while Travis Fimmel plays Marcus Drusus. Peter Christoffersen appears as Cleaver, while Matias Varela portrays Lucius.
Selina Jones portrays Grandmother, while Joseph May voices the Holo-sphere. Natalie Robbie and Carel Nel return as Marcella and Bic/ Able, respectively.
Danel Maree and John B. Swart play grumpy colonists.
Performances and Character Developments
Mother and Sue's dynamic as co-mother figures is tested as the latter must choose between the family she deliberately posits herself into en route to Kepler-22b or the adoptive family of Mithraic survivors. After listening to Sol's voice last week, Sue is enlightened, and with the development that she has had in Season 2 thus far, she is now reverting to her past self. One could even say that she is returning to her roots. Regardless, there is something fruitful is Sue's decision-making, and I hope there is still a chance for her to turn back while she can.
The female android also discovers there is more to Father's ancient project — whom Campion names "Grandmother" (Selina Jones) — than they have come to expect. Mother perceives this unearthed figure as a threat to her very existence. With her role as a governing power throughout the episode, she seems to be satisfied by the control she has over others. However, when she realizes she is not the only figure on the planet, she does not feel so special.
Loughran's character Tempest is also challenged by the child that she possesses, albeit the one that is inside her. Given the origin of the baby in Season 1, her feelings should only be considered valid. What makes her development all the more human is her power to make her own choices, as Mother previously said in regards to humans and their demands. Tempest is socially subjected, that is, she is assigned a role in society as a mother. Without that baby, she would need to search for her own purpose, and what is there to do when that system is destroyed?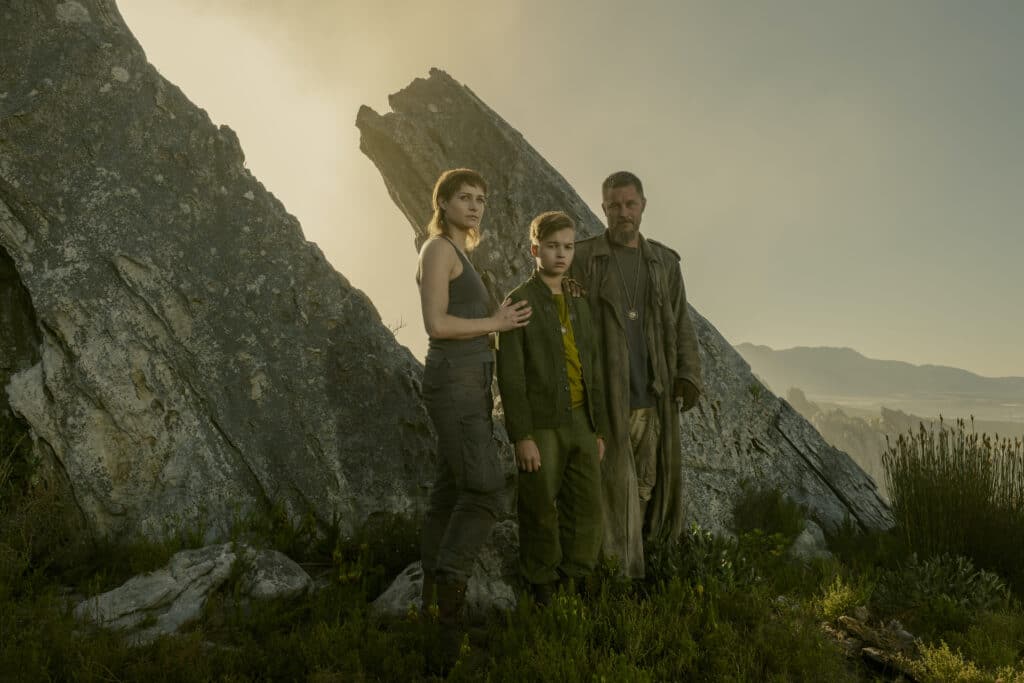 Final Thoughts
Perhaps this episode is not as great as last week's, however, the concluding act of the episode is thought-provoking. "The Tree" can serve as a metaphor for society; the branches and other parts of the structure are only as strong as its foundation, in this case, its roots. When one part of the structure loses its function, then the entire machine cannot perform well. At least with seeds you can plant them on the ground and wait for the passage of time to allow them to grow once more. This is the risk of the spiral, to reach the vanishing point and return anew.
Raised by Wolves Season 2 is now available to stream via HBO Max!
Have you seen the new season of Guzikowski's series? If so, then what are your thoughts on it so far? Let us know! For more drama and science-fiction-related news and reviews visit and follow The Cinema Spot on Facebook, Twitter, and Instagram!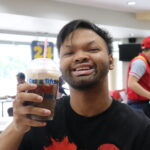 A film and television critic with a Bachelor's of Arts in English Literature with a Writing Minor from the University of Guam. Currently in graduate school completing a Master's in English Literature.