Want to hear more from the actors and creators of your favorite shows and films? Subscribe to The Cinema Spot on YouTube for all of our upcoming interviews!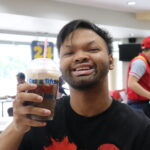 A film and television critic with a Bachelor's of Arts in English Literature with a Writing Minor from the University of Guam. Currently in graduate school completing a Master's in English Literature.
In one week, Jordan Peele's Us will release in theaters worldwide, and just last week, the filmmaker's film accumulated nothing but praise and positive words from SXSW attendees in Texas. As we wait for his follow-up to the award-winning breakout hit Get Out, we take you back to what makes his ascension into the horror genre so brilliant.
This article may contain potential spoilers for both Get Out and Us. If you have not yet seen the former, please do so as soon as possible then return to this article.
Get Out
In preparation for next week's film, I took it upon myself to re-watch the film (perhaps a third or fourth time), one which had gotten Peele his respected place in horror.
What makes Jordan Peele so great is how he executes symbolism and other literary devices from the pages of his screenplay to the final cut of the film. The first is the use of metaphors and figurative speaking.
When Daniel Kaluuya's Chris Washington first meets his girlfriend Rose's parents Dean and Missy Armitage, they converse about a deer that Rose had hit on the road on their way to the Armitage home. Her father Dean jokes about wiping out the rest of the deer, shocking the people involved in the conversation. What he says next is what I find to be his attempt at alleviating his sentiment:
"I don't mean to get on my high horse, but I'm telling ya…"
Dean might have meant this in a literal sense. It couldn't be just me, but if he had phrased that particular line in such a way that it had not reminded me of this, I would have brushed it off:
Indeed, I believe Jordan Peele intended this line to be in the film, for in a later scene, Chris speaks to Rose about the family's groundskeeper Walter after having had met him. He questions Walter's role at the Armitage home:
"It's not what he says; it's how he says it."
Peele also uses the human psyche as a defense mechanism and mental trauma as a weapon against people–in his case, those of color, that is, the African Americans. Jim Hudson, the blind art dealer, tells Chris: "Life can be a sick joke. One day, you're developing prints in the darkroom, and the next day, you wake up in the dark."
Earlier on, during a dinner conversation with the Armitage family, Rose's brother Jeremy tells Chris, "Strength doesn't matter, right? It's all about–" Jeremy points a finger to his own skull–implying the human mind–and continues:
"It's a strategic game, like chess."
This is all part of Peele's plan. As TSA employee Rod Williams is watching Chris's home, an off-screen voice on television says something:
"The mind is a terrible thing to waste."
When Chris is held in restraints at the Armitage home, the Armitage grandfather, Roman, on television tells our protagonist otherwise:
"Don't waste your strength. Don't try to fight it. You can't stop the inevitable."
Chris is told to lower his defense and succumb to his captors.
A third device is Peele's use of symbolism, which we do see throughout Get Out, and later in this article, I shall discuss symbolism in Us, at least, what I've found in its trailer.
At the start of the film's third act, Dean Armitage stares into the lit fireplace. He says:
"Fire. It's a reflection of our own mortality. We're born, we breathe, we die. Even the sun will die someday, but we are divine. We are gods trapped in cocoons."
Another example of symbolism is Peele's use of animals, and in Get Out, he uses the deer. Chris felt sympathy for the deer that Rose had hit because it was a reflection and symbol of what he's lost in his past: his mother had been killed in a hit-and-run. As Chris makes his escape from the home, he runs into Georgina. Guilty for the death of his mother, he decides to save the housekeeper, allowing her to not suffer the same fate. In the room in which he was held captive, we see the head of a deer hung on a wall, indicative that both the African American and deer are just mere treasures and trophies for the white man to collect. Chris uses the deer's head–something Jeremy had pointed out (literally) in an earlier scene–to kill Dean Armitage.
The deer is used to represent the strength and agility of the African American, as shown with Walter, but the symbolism of animals does not stop here. In Peele's trailer for Us, we are shown something quite new.
Us
The trailer for Jordan Peele's sophomore film Us has been my favorite since it was posted on Christmas Day. The teaser showed me a lot, and I had to see it multiple times to capture what I did not see during my first viewing.
Twenty-eight seconds into the trailer, the Wilson family are walking on the beach. From an overhead angle, we see that they've each cast a shadow, and this foreshadows (perhaps Peele intended this pun) the darker versions of the family members, or shall we say doppelganger, that they encounter later in the trailer.
At the thirty-seven second mark, we see Zora Wilson wearing a t-shirt with a rabbit on it, and later we see a group of rabbits set loose in one frame and caged in during a next frame.
Of course, there is more to explain when the film releases next weekend.
What I love most in both these two films thus far is their use of music, and I feel this could not be appreciated enough. Get Out's initial scene after its prologue uses Childish Gambino's "Redbone," which Peele explains in an interview. Us uses Luniz's "I Got 5 on It," which has a rather catchy hook, one that Peele converts into something rather creepy and ominous.
What are your thoughts? Do you agree? Is there anything we missed? Let us know! For more Jordan Peele and horror-related news and reviews, follow The Cinema Spot on Twitter (@TheCinemaSpot) and Instagram (@thecinemaspot_).
Source: HipHopDX, Universal Pictures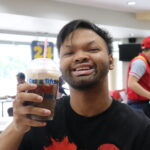 A film and television critic with a Bachelor's of Arts in English Literature with a Writing Minor from the University of Guam. Currently in graduate school completing a Master's in English Literature.